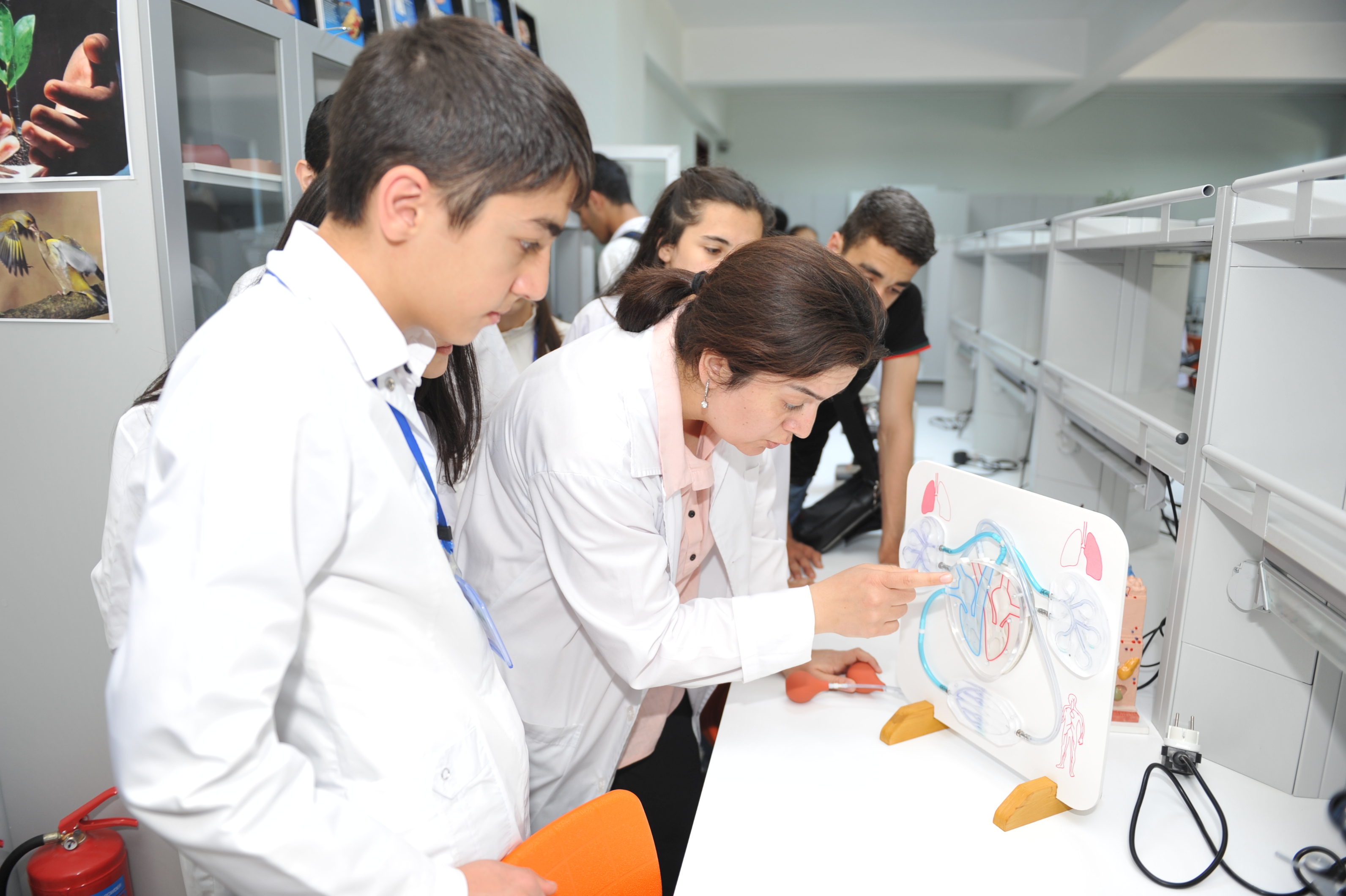 Since biology is a theoretical and practical subject, the role of this laboratory in the teaching organization at the Department of Biology is particularly important. Baku Engineering University (BEU) Biology Laboratory creates all opportunities for the organization of 15 students' laboratory study simultaneously. The laboratory is designed in a format that is suitable for conducting training seminars and research for groups of 32 people in different areas. Since the education in the Biology Education Department is in English, the
teaching base was created accordingly. The laboratory has up-to-date equipment for the experimental sections of biology, as well as for students to conduct researches independently. Moreover, lighting of desktops, centralized power supply systems, shelf design and location of the sets ensure the effectiveness of practical sessions. Laboratory visual aids can be grouped under the following headings:
Genetic research method – PCR (polymerase chain reaction)
Mentioned research method is currently leading in modern biological research. The method is based on the principle of selective replication of regions through the polymerase enzyme of DNA outside of living organisim by selecting a particular region and allows to study the phylogeny, molecular biology and genetic composition of organism with different taxonomic units. At the laboratory, Edvocycler PRC Machine with 25x 0.2 mL PCR, a 4-99 ºC temperature range, as well as equipped with 7 inch LCD display is widely used in the courses of "Molecular Biology" and "Introduction to Genetic Engineering".
Analytical scales, vortex (mini centrifuges), micropipettes with different capacities
Analytical scales are widely used in the preparation of nutritional environments with various compounds for conducting various analytical and biochemical analyzes, and accommodating microorganism and fungal strains. Analytical scales with KERN ABS 220-4 N automatic time controller, and accuracy of 0.2 mg.
LabNet SN 1304 mini-centrifugal with KERN ABS 220-4 N automatic time-broadening spectrum is used in the laboratory for the students to conduct researches independently, and the teaching process.
The laboratory is equipped with 3B and EDVOTEK micropipettes with the aim of developing students' skills and abilities to use micropipettes as the main research tool in modern biochemistry and biotechnology laboratories with micro- and nano-scale research facilities.
Various types of kits to show genetic, cell and biochemical methods
P
lanning experiments and forecasting their results, as well as adapting the experience to the educational process both in terms of used substances and in time is significant for the organization of laboratory studies. Thus, the laboratory is equipped with experimental sets on a variety of subjects. Ready-to-use experimental kits produced by "Carolina" and "3 B" companies are widely used in the Biology Laboratory for teaching of "Genetics", "Molecular Biology of Plants", "General Biology" and "Microbiology" courses.
Models showing the internal function of the human sensor system
It is important for
providing clarity in the teaching of the structure and functions of internal organs and tissues on "Human and Animal Physiology" and "Human Anatomy" courses. In this regard, models reflecting the principles and functions of the internal structure of the sensor system in the human body contribute to better memory and understanding of the teaching material.
Micro Laboratory Kit for Environmental Monitoring
Currently, t
he involving students in environmental monitoring is of utmost importance in the background of the "environmental tension" on the planet.
The students use the micro-laboratory kit to carry out scientific research, as well as to study the impact of environmental factors on the different groups of living organisms and properly organize their protection.
Polarizing microscopes with light, stereo, and digital camera
BEU Biology Laboratory is equipped with "LEICA" DM-500 microscope with 5 LED illumination, binocular microscope "WALTER" microscope (equipped with battery) with 6 LED illumination, dioptric correction, as well as DN107 T microscope with 1 USB, 2 stereomicroscopes and one polarization microscope for students to carry out experimental researches.
Various species of live plants and animals
The Biology Laboratory maintains a variety of living objects such as invertebrate and invertebrate animals, as well as water and desert plants for teaching process and research works. Monitoring of their respective phenological phases and life cycles is carried out in a laboratory in a stationary environment.
Passive avoidance conditioned reflex device to study the learning process in animals
This device, which is used in the teaching of topics related to the physiology of higher nervous activity, can also be used successfully for the implementation of experiments on different sections of the course (teaching physiology of learning, physiology of memory processes), as well as for the students' independent research.
These opportunities are sufficient for students to carry out practical work on subject programs in accordance with the undergraduate curriculum. However, it is also possible to conduct some research and implement projects in the laboratory. For example, a large sterilization booth is designed for conducting various microbiological and bacteriological studies. "LEICA" DM-500 microscope with 5 LED illumination, binocular microscope "WALTER" microscope (equipped with battery) with 6 LED illumination, dioptric correction, as well as DN107 T microscope with 1 USB, 2 stereomicroscopes and one polarization microscope is suitable for observation of various biological objects.